While some opera houses are reimagining Puccini with VR headsets and 1950s film studios, the Madison Opera has chosen to open its 2023-24 season with a tried-and-true traditional "Tosca."
With grandiose set pieces meant to evoke a picture-book version of 1800 Rome and soaring Italian lyrics about epic love "like blazing rainbows," "Tosca" is a perennial favorite. Tenor Limmie Pulliam's opulent arias may sound familiar even to first-time visitors to the opera. Soprano Michelle Johnson sweeps onto the stage like an avenging angel, her cape swirling.
With Craig Irvin as a devilish baritone and a short but rich hymn for the chorus, the whole thing adds up to about three entertaining hours. The Madison Opera is once again staging "Tosca" at Overture Hall on Sunday.
"Tosca," based on an 1887 Sarah Bernhardt vehicle by playwright Victorien, is less a love triangle than the story of two fiery artists caught up in political unrest and the intrigues of a cartoon villain.
Act I begins in a Roman cathedral and includes a guest appearance by the Pope himself. Acclaimed diva Floria Tosca (Johnson, shining in the role for the third time) struggles with evil jealousy when she visits her painter friend Cavaradossi (Pulliam), even though he behaves suspiciously.
Cavaradossi is hiding an old friend and recently escaped political prisoner. The man's name, Angelotti, sounds like pasta, although Alex Soare sings his part wonderfully well.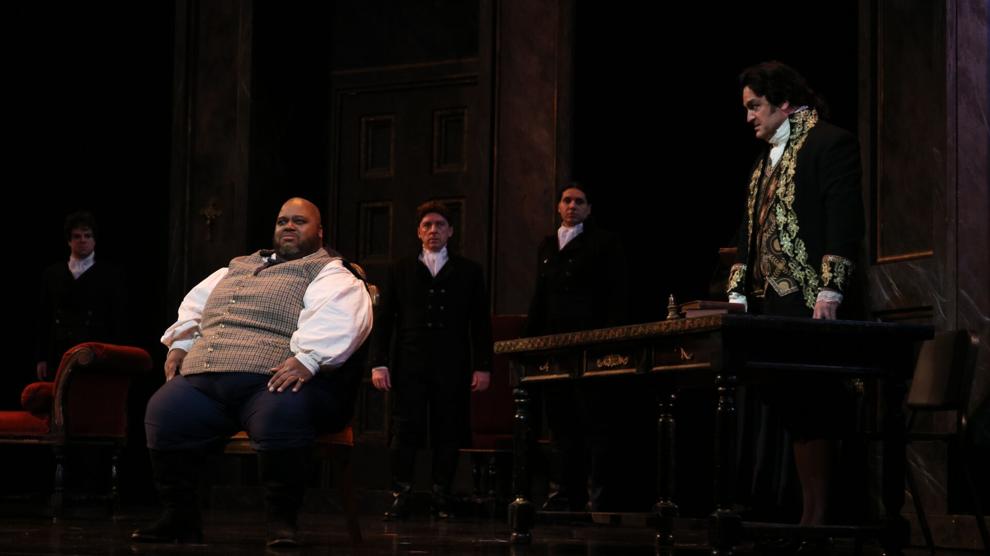 Irvin's Scarpia stalks in pursuit of the prisoner, but when he spots Tosca he quickly changes direction. Can he convince the mercurial diva to guide him to his destination and secure a little "violent conquest" in the process? We can almost see Scarpia's fingers drumming together in treacherous anticipation.
As Tosca, Johnson clearly enjoys her lover's slightly comical banter in "Non la sospiri la nostra casetta" ("Don't Pin on Our Little House"). She also has dramatic ability, highlighted in a pleading, beautiful "Vissi d'arte" ("I live for art").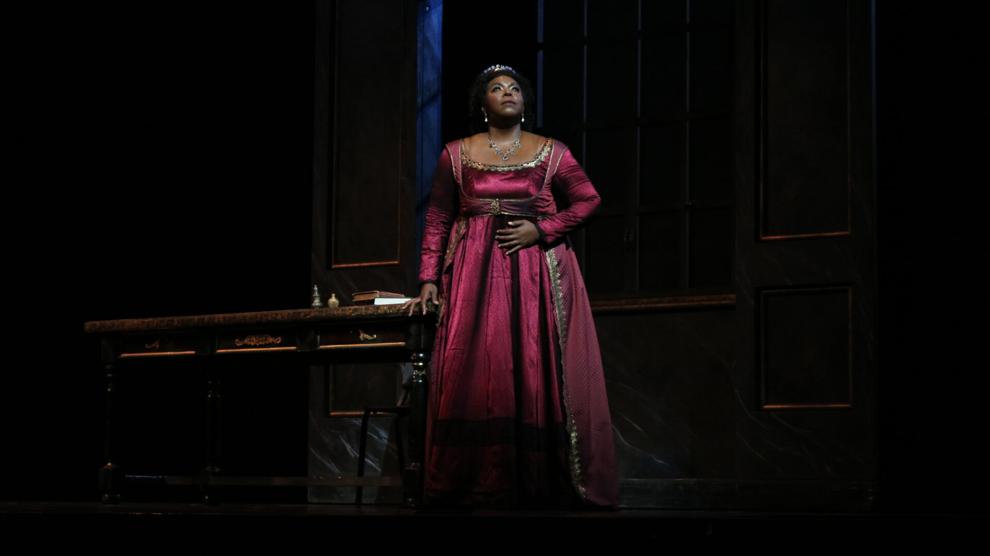 Irvin grins like the Cheshire Cat with Inspector Javert's ponytail and welcomes Scarpia's over-the-top evilness. "Bramo!" He screams ("I feel like it!") and sips cranberry juice from a goblet as he takes the stage. It is wonderful. When director Frances Rabalais commissioned the melodrama, Irvin understood the brief.
Pulliam's standout moment is, as expected, no less spine-tingling. "E lucevan le stelle" ("How the Stars Shined") is iconic and Pulliam proves why with a lush, romantic take on the aria.
Under the direction of maestro John DeMain, Puccini's film score couldn't sound more theatrical and cinematic in its highs and lows. Pulliam and Johnson unite in duet after duet with DeMain's romantic energy. When Scarpia first takes the stage, the rousing chord of the orchestra could fill Camp Randall.
The Madison Opera plays "Tosca" on average once a decade, and this is the sixth. Opening night had a few shaky bits, like a rocking statue of the Virgin Mary and a ponderously slow performance that, after two acts and two intermissions, felt even longer than it was.
Still, "Tosca" looks pretty good in 2023, with flattering costumes by Utah Opera's Susan Memmott Allred and intense, deliberate lighting design by Christina Watanabe.
When Tosca grabs a knife and points it at Scarpia, she turns her story into the rare tragedy you don't feel The tragic, even if the number of deaths is significant. Tried and tested also requires commitment. This production features a traditional "Tosca" singing.
Lindsay Christians is a food editor and arts writer for Cap Times. She holds a master's degree in theater studies from UW-Madison and is a member of the American Theater Critics Association.
To support Lindsay's journalism, click here to become a Cap Times member. To respond to this story, cClick here to send a letter to the editor.