In Madison Ballet's season opener, "innovation" has several meanings. A total of five new works by guest artist Alia Kache, a trio of dancers from the company and the company's rehearsal director deal with mechanical tension, a tense couple and the pure joy of movement.
"Innovation," now on stage at Promenade Hall, runs through November 5th.
The evening begins with "Métamatic" by Madison Ballet rehearsal director Richard Walters, a lucid meditation on the tension between automated systems and human agency. Ballet, a form characterized by the pursuit of beauty through disciplining the unruly human body, provides an interesting site for such an investigation.
The piece begins with lights illuminating a giant lever that, when pressed, sets the dancers in motion. Dressed in geometric-print unitards in primary colors, they move with a distant yet energetic determination. Does the synchronicity of their limbs create a kaleidoscopic human web or simply intricate gears? Maybe Walters would have us believe both.
Shannon Quirk and Alex Vrba have an outstanding duet in the piece. Fernanda Yamaguchi, who is also responsible for costumes, has a moment where she plays the lost person overwhelmed by the surrounding hustle and bustle of dancers-as-machines.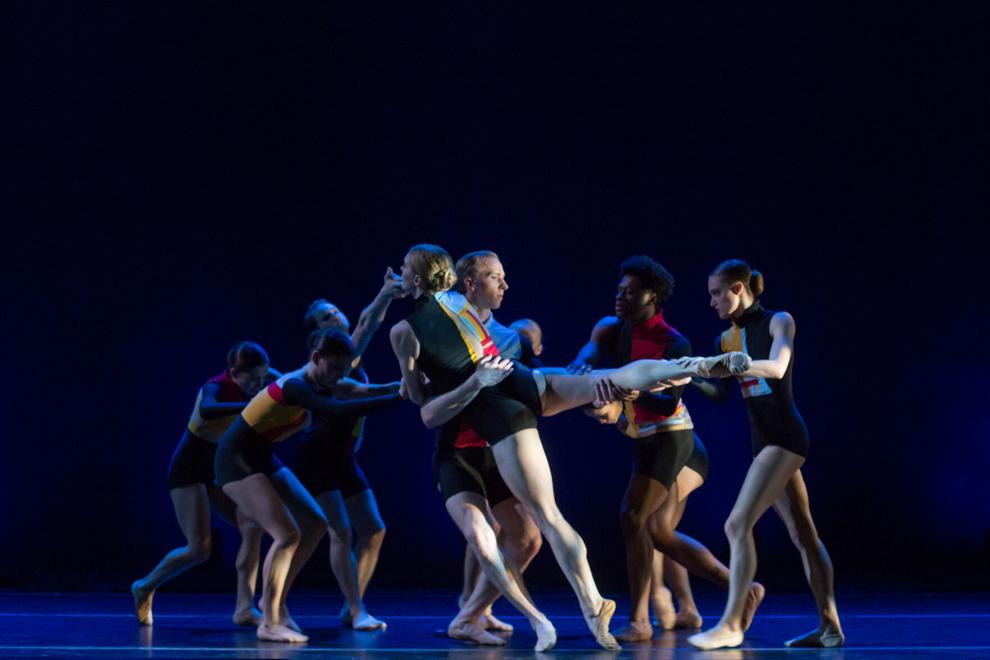 But the strongest moment of "Métamatic" is when staggered waves of dancers from stage left stride through the room meticulously and at the same time evenly and frenetically. The piece ends with all the dancers facing the audience as if to confront them.
Eric Stith's "Am I Loveable" is the most layered and complex piece of the evening. A duet between Ben Shepard and Emily Dietz, both dressed in a version of white button-downs and black underpants. The work is fearful and the performances captivating. It features original synth-pop music by company member Vrba, punctuated by sharp breathing sounds.
Shepard and Dietz move separately for most of the piece in sequences that mix ballet, locking and mime in uneven ways. The use of the dancers is exciting. Are they a tense couple or an internal struggle personified? Stith is a choreographer to keep an eye on.
"Moments of Emotion" by Sarah Minton is a dance of symmetry and legible structure. It begins with the silhouette of three dancers facing away, James Wainwright in the middle, flanked by Quirk and Lauren Thompson. Wainwright performs separate duets with Quirk and Thompson, dressed in pink or blue gradient dresses, before all three reunite on stage against a purple backdrop. The dance is elegant and confident.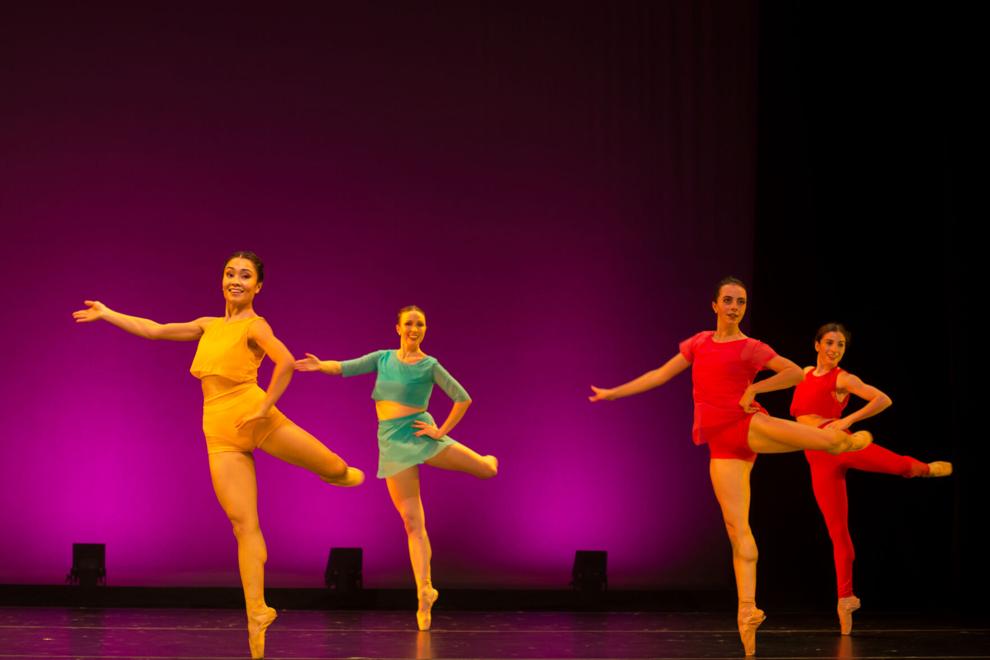 Charlotte Junge's "My Recollection," a piece with seven dancers, feels most urgent. Dancer Michaela King's sophisticated movements and focused energy form the centerpiece of a unified cast in uniform navy blue costumes. During his solo moments, Vrba dominated the stage.
At one point, the entire cast gathers at center stage to perform a spirited sequence together, artfully lit by Zak Stowe, the entire program's lighting designer. The moment was reminiscent of Alvin Ailey's iconic opening score, "Revelations," but with a twist of its own.
The evening ends on a joyous note with guest choreographer Alia Kache's jubilant group number titled "Recession," to the music of singer/songwriter Shannon Rugani, also known as EMPRESS. Yamaguchi's costumes of plain shorts and tank tops, combined with Rugani's lighthearted lyrics, convey a sense of lightness and play.
This piece by Kache is wonderfully a dance about dance. Most fascinating are the isolated moments of silence in the music, where the artists still carry on with the party, creating almost eerie pockets of empty celebration. Although cinematically it ends with a couple in the middle of the group, it's the smiles of the entire ensemble that you can't help but focus on.
To support Cap Times' arts journalism, click here to become a Cap Times member. To respond to this story, cClick here to send a letter to the editor.